10 Key Reasons To Move To Office 365
Organisations are continuing to flock to Office 365 at an unprecedented level – with over 155 million active business users now utilising the Microsoft Cloud, and a further 50 million expected over the next 12 months. Here are some of the key reasons why so many are making the move…
1. Keep Up with Microsoft's

"Cloud-first"

Strategy
Microsoft has put an enormous amount of focus on its "cloud-first, mobile-first" strategy for a few years now to great success, with significant priority being given to Cloud-based Office 365 development, far above and beyond the Microsoft on-premises suite. You may have already been impacted by Microsoft offering less and less support for their legacy platforms, and it's only going to become more apparent as time progresses.

It's easy to understand why Microsoft focused on the cloud given the sheer number of organisations who have migrated to Office 365 (making up the 155 million active business users we mentioned in the intro). Moving to the Microsoft Cloud ensures your organisation doesn't get left behind – not to mention the automatic updates that ensure you're always bang up-to-date with the latest and greatest features/improvements (which you can read more about on point 5).
2. Streamline IT Costs & Management
Keeping an on-premises IT infrastructure up and running can be challenging. Office 365 helps you simplify this by offloading some of your infrastructure to the cloud. This significantly reduces your hardware, along with its associated management costs, resources, and headaches. You don't need to worry about servers or maintaining them, and less downtime also means that your staff are more productive, and waste is reduced.
3. Work Anywhere, and with Any Device
Office 365 provides 100% true mobility with access to your email, files, data, and apps from anywhere, with seamless integration across any device (each Office 365 licences can be installed on up to 5 of that users devices!). This helps to implement new working practices that help move your organisation towards the 'modern workplace' which can have real and significant impacts on your strategy and overall success.

Firstly, your staff are no longer chained to their desks which brings its own benefits around flexibility and work-life balance – but even more than that, it opens up the ability to collaborate, and become significantly more productive by changing the way you work (read more about this on points 7 and 8 respectively).
4. You Only Pay for What You Use
Office 365 gives you the flexibility to scale up or down as your business grows – all with a predictable cost structure. You only pay for what you use, nothing more. There are a wide range of plans to choose from, ranging from £3 to £30 per user per month, and you can even mix and match the plans for ultimate flexibility and budget control.

Quickly scaling up (or down) as business needs change becomes easy with your switch to the cloud. Depending on your requirements, Office 365 allows you to easily adjust the number of licenses you need for core productivity, communication and collaboration without IT being a roadblock to your business agility. The key thing is that you are in control. You decide and can change who has what capabilities at any time.
5. You Only Need to Migrate Once – Auto Updates
Once you've made the move to Office 365, you'll have escaped the endless cycle of waiting a couple of years for Microsoft's next product release – in short, this means no more 3-6 year email migration cycles. Instead, Office 365 is always up to date, you'll have instant access to updates and bug fixes as soon as they're ready – you'll never need to migrate again, ever.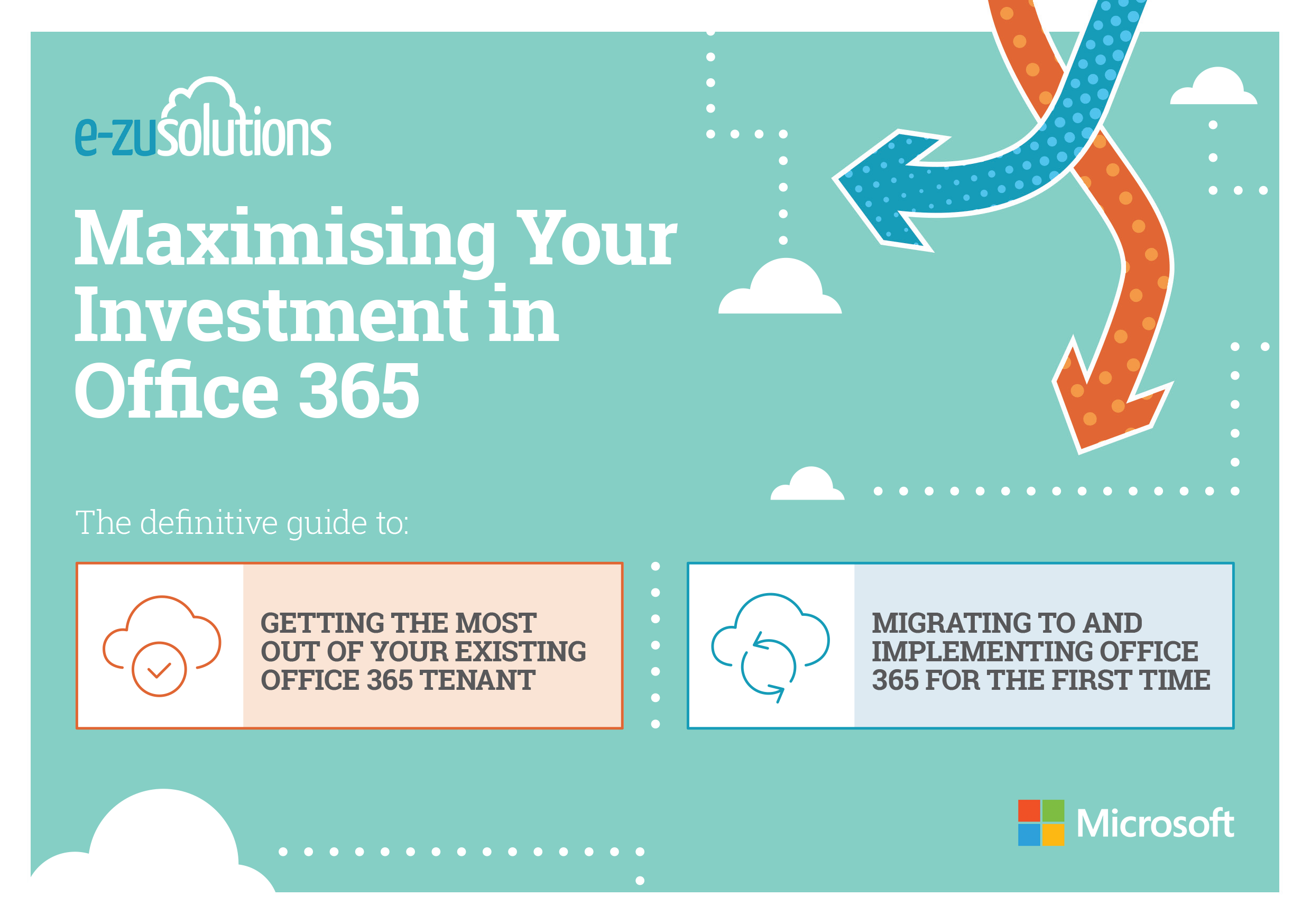 Read Our Office 365 E-book
Click below to read the digital flipbook version of our new 20-page booklet, "Maximising Your Investment in Office 365".

It's been carefully designed to be useful and informative for those migrating to the Office 365 platform for the first time, and also for making the most of your Office 365 tenant once it's up and running.
READ 20 PAGE E-BOOK
6. Unbeatable Reliability and Availability
Reducing the risk of downtime is a responsibility that Microsoft takes very seriously – offering a financially-backed SLA for a 99.9% Uptime/Service Availability Guarantee, designed for complete peace of mind that your critical emails, files, data, and apps will be available whenever your workforce needs them. To help achieve this, Microsoft implements 5 layers of industry-leading security for Office 365, with a primary focus on ensuring that service availability is not disrupted.
7. Unmatched Collaboration & Communication
Microsoft Teams, OneDrive for Business, Yammer, and SharePoint Online are included as standard in all major Office 365 licences, working together to form a Collaboration ecosystem which simply cannot be matched – changing the way you work, and boosting workplace productivity by up to 400% according to Frost and Sullivan.

Teams is particularly game-changing. Gartner predicts "Teams will soon be as common as Outlook" and it's easy to see why – it's Microsoft's fastest growing application and it enables incredibly powerful teamwork and collaboration, with live co-authoring of documents, Teams and channels to help you drive projects forward, and a huge range of advanced communication tools allowing you to meet, video-chat, Instant Message, organise webinars, and even make phone calls – all from Teams itself.

In the past, traditional workplace barriers between teams could quickly lead to communication silos that increase separation and limit collaboration, eventually disrupting communication across an entire organisation, severely impacting your business's productivity. Office 365 can be harnessed to improve communication flows and cultivate a culture of collaboration, where employees are able to seamlessly share ideas and files between teams, departments, tools and devices. This brings us perfectly onto our next point… productivity.
8. Increase Employee Productivity & Efficiency
Office 365 is not just about getting things done faster. It is about reinventing how you get them done. A diverse range of amazing applications help you deliver huge productivity gains; including Planner, Delve, Flow, and MyAnalytics – helping employees understand how to maximise their time/projects.

These tools (along with the powerful collaboration and communication apps discussed in point 7) work across all platforms, allowing users to access their documents from PCs, Macs, iOS and even Android devices – anytime, anywhere. This keeps everybody is working on the same page – making being productive is as simple as possible.
9. Consolidate Your IT Services/Providers
We've already made clear us that there is huge range of tools available within Office 365. What we haven't mentioned yet, is how many of these tools help you consolidate the services you pay for, by eliminating the need for third-party services such as Webex/GoToMeeting, VoIP/telephony services, and even your advanced email security (thanks to the ever-advancing Microsoft ATP) – this enables you to save money and streamline your existing providers.
10. Utilise Intelligent Business Analytics
Powerful Office 365 applications like Power BI are specifically designed to enable you to analyse key business data and make crucial decisions based on the information that matters. You can build a bespoke data model, dashboards and reports and then share them with others at the touch of a button. Of course, you can do this anytime, anywhere – meaning your key decision makers can always make informed decisions based on real up-to-date information no matter where they are.
Book a 30-Minute Discovery Call
Our experienced Microsoft-certified Technical Consultants can help your organisation find out more about migrating to Office 365. We highly recommend talking to a Consultant to discuss your environment and migration options. There are no obligations, no pushy salespeople on the call, and it's strictly tailored to your needs.
BOOK DISCOVERY CALL
E-ZU Customer Testimonials
South Wales Fire & Rescue
E-ZU has delivered by far the best Customer Support I have experienced to date. Communications were prompt and friendly. We were able to find a cost-effective solution quickly and at the right price bracket.
M & H Plastics
Customer service and dedication does not get better than this. I would highly recommend the team at E-ZU to anyone looking for a solutions partner, they have the knowledge and service that leaves the competition standing.
The Entertainer
The knowledge of E-ZU's staff smoothed the presales and setup processes, making them straightforward and professional. Their honest and forthright guidance on product options in the early stages was especially refreshing.