8 Reasons You Need to Backup Office 365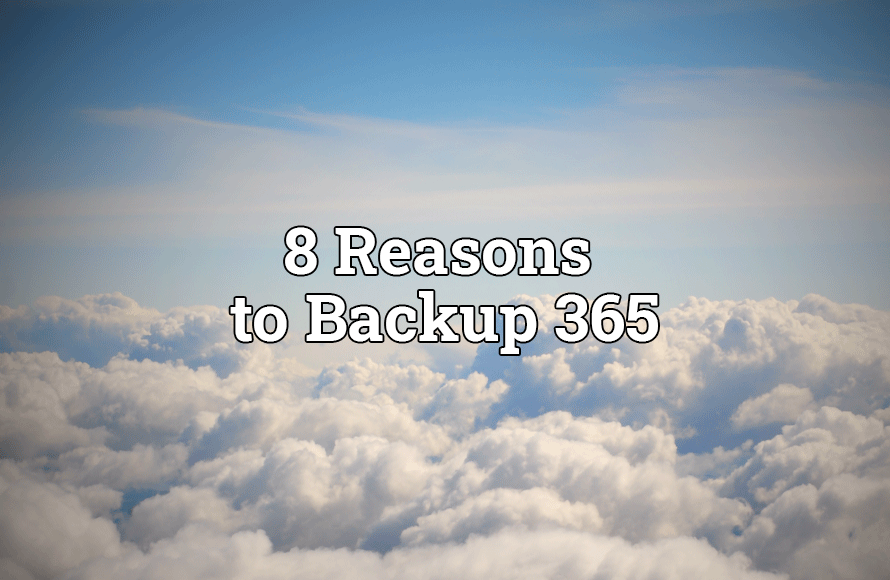 1. Office 365's Recycle Bin is NOT a Backup Solution
The Office 365 recycle bin is a handy tool but it is not designed as a backup solution, and it doesn't work as one. For one thing, its 93-day email retention period is inadequate for most policy and regulatory compliance. For another, restoring lost files is cumbersome and time-consuming – to restore an entire deleted mailbox, for example, you have to recover each file individually, one at a time.
2. Data Being "In the Cloud" Doesn't Mean It's Safe
Many organisations assume that since Office 365 already resides in the cloud, there is no need to have another copy of the data. In the same way that you need backups of your on-premises data, servers, and infrastructure – any business-critical data stored in cloud services like Office 365 needs the same level of protection. Your data needs to be replicated to ensure you always retain a copy, and always restore it if you need to – especially in the face of accidental deletion, user errors, security threats, and retention policy gaps, which are all fairly common occurences within Office 365.
3. Microsoft Recommends Third-Party Backup
Microsoft doesn't backup your data, and they make it very clear that you are still solely responsible for it. Microsoft's primary focus within Office 365 is ensuring that service availability is not disrupted. Whilst Microsoft does a great job reducing the risk of downtime, this doesn't reduce the risk of data loss. Microsoft does provide some basic safety measures but their options for data recovery are quite limited.
In fact, Microsoft officially recommends that you have third-party Backup & Recovery in place for your Office 365 tenant – stating in the Microsoft Services Agreement: "We recommend that you regularly backup (the) Content and Data that you store on the Services using third-party applications and services".
4. Retaining Full Control of YOUR Data is Vital
Security threats and compliance requirements demand that you control your business-critical data. Total access and complete control of Office 365 data is possible with the introduction of a separate backup that you and your IT administrators can access and manage – which also provides confidence and peace of mind that you can easily recover your data (without having to worry about relying on Microsoft).
5. External Threats and Ransomware Attacks
Ransomware attacks continue to be an ever-growing issue, and SaaS environments are not immune to them. Ransomware attacks can easily spread to Office 365 via ActiveSync and OneDrive Sync. While there will always be perpetrators, and likely always be well-meaning employees who fall victim to the scams, it's only really an issue if you don't have reliable backup and recovery in place.
With Cloud-to-Cloud Backup in place for Office 365, your organisation is truly protected – even if the ransomware gets in and encrypts your data, you can be the hero who restores the infected files quickly and easily, eliminating the need to pay the ransom.
6. End-user Deletion Makes Up 71% of 365 Data Loss
According to a study by the Aberdeen Group, end-user deletion (whether malicious or accidental) accounts for a huge 71% of all data loss within SaaS environments like Office 365. A huge amount of business-critical information is stored within user's emails, files, and folders. It is surprisingly easy for an end-user to accidentally delete important data, and it would be lost forever after it's retention period (93 days in OneDrive and SharePoint) is over, at which point it is simply not possible to be recovered.
A reliable cloud-to-cloud backup solution solves this problem by taking regular backup copies of all your data, which you can retain for as long as you wish and recover whenever you need to.
7. Limited Retention Puts Your Compliance at Risk
Recently deleted content from Exchange Online, OneDrive for Business, and SharePoint Online is not deleted immediately. Instead, the deleted content goes through a set of Recycle Bins, each with their own retention policies, before it is deleted permanently. The Recycle Bins act as a safety net for deleted content. While data can be recovered from these Recycle Bins, the retention for each is limited – so for example, once deleted data that came from OneDrive for Business/SharePoint Online is outside of its 93 day retention period, it is gone forever with no option to rollback or recover. The default retention policies within Office 365 can make it difficult to meet any regulatory legal and compliance requirements (especially within the Financial, Legal, and Healthcare sectors) but the additon of a Cloud-to-Cloud Backup solution with unlimited retention can solve these concerns.
8. Default Restore Options Can Be Destructive
Using the "off the shelf" data restore features within Office 365 means that when you restore older files from a SharePoint backup, the restore is targeted at the same URL and will overwrite whatever data currently exists in the site collection. Even worse: there is no rollback option. Make sure that the backup solution you select offers you the ability to restore data without overwriting existing files or site collections targeted at the same URL.
E-ZU Cloud to Cloud Backup Service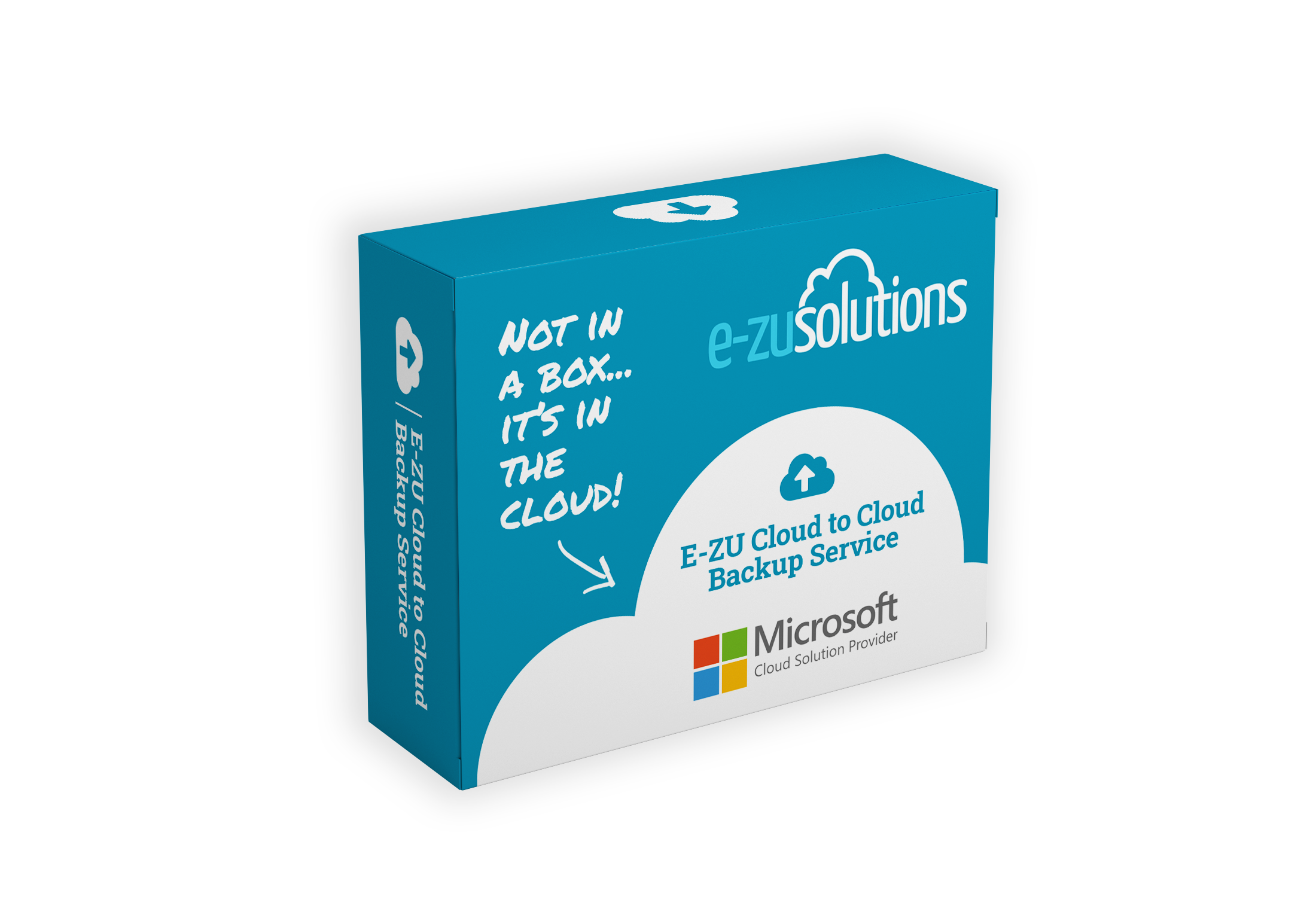 The E-ZU Cloud to Cloud Backup Service offers complete protection for Office 365 environments of any size – from a trusted Microsoft Cloud Solution Provider (CSP) with over 16 years' experience.
It's fully managed by our Microsoft experts and safeguards your data from end-user deletion and evolving threats like Ransomware (thanks to flexible recovery from a secondary cloud site that's hosted in a highly secure UK-based data centre).
E-ZU Cloud to Cloud Backup Service provides comprehensive Backup and Recovery for Exchange Online, OneDrive, SharePoint, Groups, and even Microsoft Teams. No additional software or hardware is needed on-premises – it's simply a cost-effective per-user/per month subscription, in line with your Microsoft Office 365 licences. Find out more about E-ZU Cloud to Cloud Backup for Microsoft Office 365